Twin Roto Power Storm (Older Snap-In Style) Jet Insert, Waterway
Waterway Plastics has discontinued the snap-in Power Storm Series Jet. While Quantities Last
Limited quantities still available in Black.
Waterway Twin Roto Power Storm Jet Insert (includes diffuser).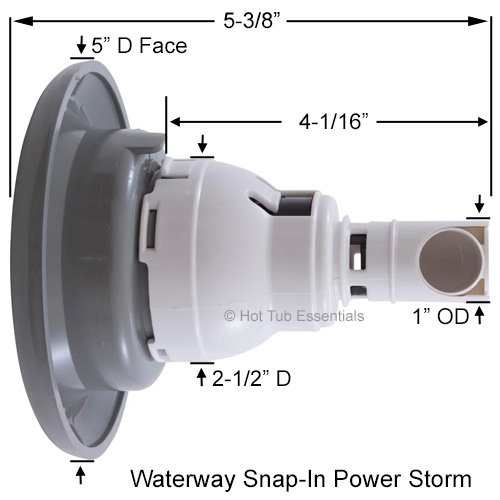 5" Face Diameter Power Storm Jets are interchangeable with 5-1/4" Large Face Diameter Power Storm Jets.
If you have Snap-in style jet housings, you must use Snap-in style inserts (the newer threaded style inserts will not fit).To install jet insert, push in and rotate a 1/4 turn clockwise. To remove jet, rotate counter-clockwise (about 1/4 turn until it stops) then apply additional turning force to unlock.
212-7611 - Black
212-7610 - White -

NO Longer available

212-7617 - Grey -

NO Longer available
Once these jets are gone, There will be one replacement option - 212- 7639-STS Light Grey "Sterling Silver" – Directional Jet
Customers who bought this product also bought