Covermate 3
The World's Premier Hydraulic Assist Cover Remover. Features dual gas shocks for effortless removal of your cover. An excellent design and top quality construction. Works great on large, heavy covers.
The Covermate 3
The World's Premier Hydraulic Assist Cover Remover.
Durable & Rigid - Large powder coated aluminum bars, with a full width centre bar, provides superior strength. The quality is second to none, and is sure to provide many years of trouble-free performance.
Solid Mounting Brackets - 2, 25" (63 cm) mounting brackets are extremely strong, yet a sleek design.


Dual Hydraulic Shocks - Makes opening & closing of your hot tub cover almost effortless.
Space Efficient - Only requires 5" (13 cm) clearance on sides and 6" (15 cm) on rear of tub. Ideal for spas in gazebos or when space is limited.
Safety - Our break-proof locking system prevents inadvertent closing of your cover and eliminates broken shock problems.
Installation - Simple and fast. The CoverMate 3 comes 80% assembled, reducing install time.
Will the Covermate 3 work on your hot tub?
Maximum Cover Width - 96" (244 cm)
Clearance required - Sides 5" (13 cm), Rear 6" (15 cm)
Will it work for In-Deck Spas? - Partially sunk-in is okay, as it mounts to the upper side of the cabinet. Deck Mount Covermate 3's are also available.
Will not work on Octagon, Round or Hexagon shaped spa cabinets
If your spa cabinet has rounded corners, the maximum corner radius this will work on is 10" (25 cm) - see below to measure the cabinet radius.
---
How to measure the corner radius of Rounded Corner spas: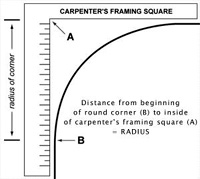 ---
As always, FREE SHIPPING on ALL orders over $149!
Customers who bought this product also bought